When shopping for Jewellery, you will come across several terms, such as 18K gold, gold-filled, gold-plated, gold-vermeil, etc. It is very important to firstly know that all of these aren't the same thing. It's also then important to know and identify the differences between these terms.  
Let us tell you what 18K gold vermeil means and how it is different from gold-plated. 
18K Gold Vermeil – What is it? 
Pronounced as ver-may, the word has French origins. Very simply, it can be understood as plating with MUCH higher and strict standards. A technique can only be termed vermeil if it follows ALL of the below conditions: 
1. The base metal needs to be sterling silver. Sterling silver is when there's a mix of 92.7% silver along with a mix of other alloy metals to give your Jewellery a better shine and a longer life. No Jewellery made of brass, steel, or copper can be called 18K gold vermeil. 
2. The gold that's used in this technique should be at least 10K or 10 karats. This means that the composition of the alloy used in plating should have at least 41.7% real gold. Anything less than 10 karats gold will be considered as gold plating and not vermeil. We at Rachel Galley use 18 karat gold for vermeil.
3. And finally, the plating should be a minimum of 2.5 microns thick. One micron is 1/1000th of a millimeter, for your reference. This ensures that a relatively thicker and more reliable use of 18-karat gold is used in the plating process.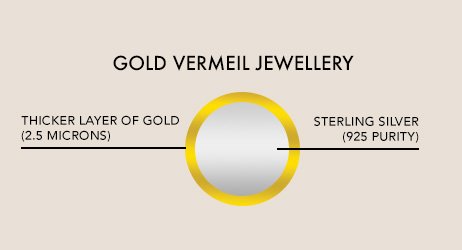 Is vermeil the same as gold-plated jewelry?
The answer is no; gold plating a much, much more affordable concept. The thickness of plating is 5X lesser than gold vermeil, only 0.5 microns (as opposed to 2.5 microns for gold vermeil). Gold plating also doesn't necessarily require a strong base metal, anything from copper, brass, to steel can be used for plating.  
In conclusion, gold plating can wear off very quickly, it also makes Jewellery prone to quicker degeneration and tarnishing. The layer of gold used is also so thin that the colour and effect of gold fade away far quicker, making your Jewellery quite short term for use.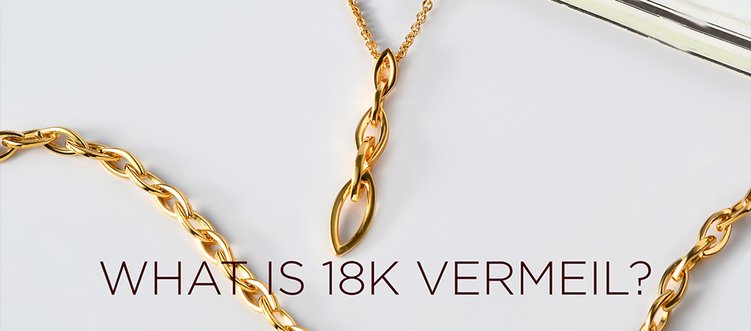 We offer you an incredible collection of 18K gold Jewellery, including rings, earrings, pendants, charms, necklaces, and so much more. Not only do we bring you the standard excellence of 18K gold in our vermeil, but also use AAA-grade real natural gemstones that offer you spectacular shine and clarity. 
All of this we do is offered at marketing-beating prices and it is only possible because we eliminate middlemen from our process. We source our materials straight from the source, so we are able to cut down all costs in between and bring you pocket-friendly prices, even when we're designer! 
It's important to note that 18K Gold is 75% Pure solid Gold, which means that the layer of metal that surrounds the silver is going to 75% pure gold!
Vermeil is a technique of gold plating that involves a much thicker layer of gold (a minimum of 2.5 microns) over sterling silver.
Process of 18K Gold Vermeil Technique
To apply 18K gold vermeil technique, the base metal (standard sterling silver) is first cleaned and polished, and then plated with a layer of 18 karat gold with the help of electrolysis process. This creates a durable and long-lasting layer of gold that gives the jewellery a luxurious and high-end appearance.
The next question we find answering the most is
Is 18K Gold Vermeil real gold? 
Yes, it most certainly is! A 2.5 micron-thick layer or REAL 18 karats gold is used on a sold base of sterling silver. When a standard use of electroplated gold plated Jewellery is made, it's also real gold, but the coating of gold is incredibly thin, so it doesn't retain the kind of shine that 18K gold vermeil does. 
Here are some questions that are asked more:
Is 18K Gold Vermeil better or gold plating?
Is 18K gold vermeil waterproof? 
18K gold vermeil hypoallergenic? 
Can I buy 18K gold vermeil?